Hi, friends we are now ready to show you how to make a Top-Down Knitted Sweater, a top requested knitting project tutorial!
*Edited the size of the needles
We will begin on Saturday, June 20th (around 10 am US Central Time) with the first video of the series. We then, will bring you a new video with the next segment of the sweater the following week.
This will allow for some good time to work along on the project and ask us questions along the way.
We expect this video series to last for 6-10 weeks, but we'll go with the flow, as this is the first time we organize a Knit-A-Long (or Knit-Along) this way. Hopefully, this will be a suitable format for all and allow for room to provide and receive timely feedback.
Here is the list of materials you'll need to get started on Saturday: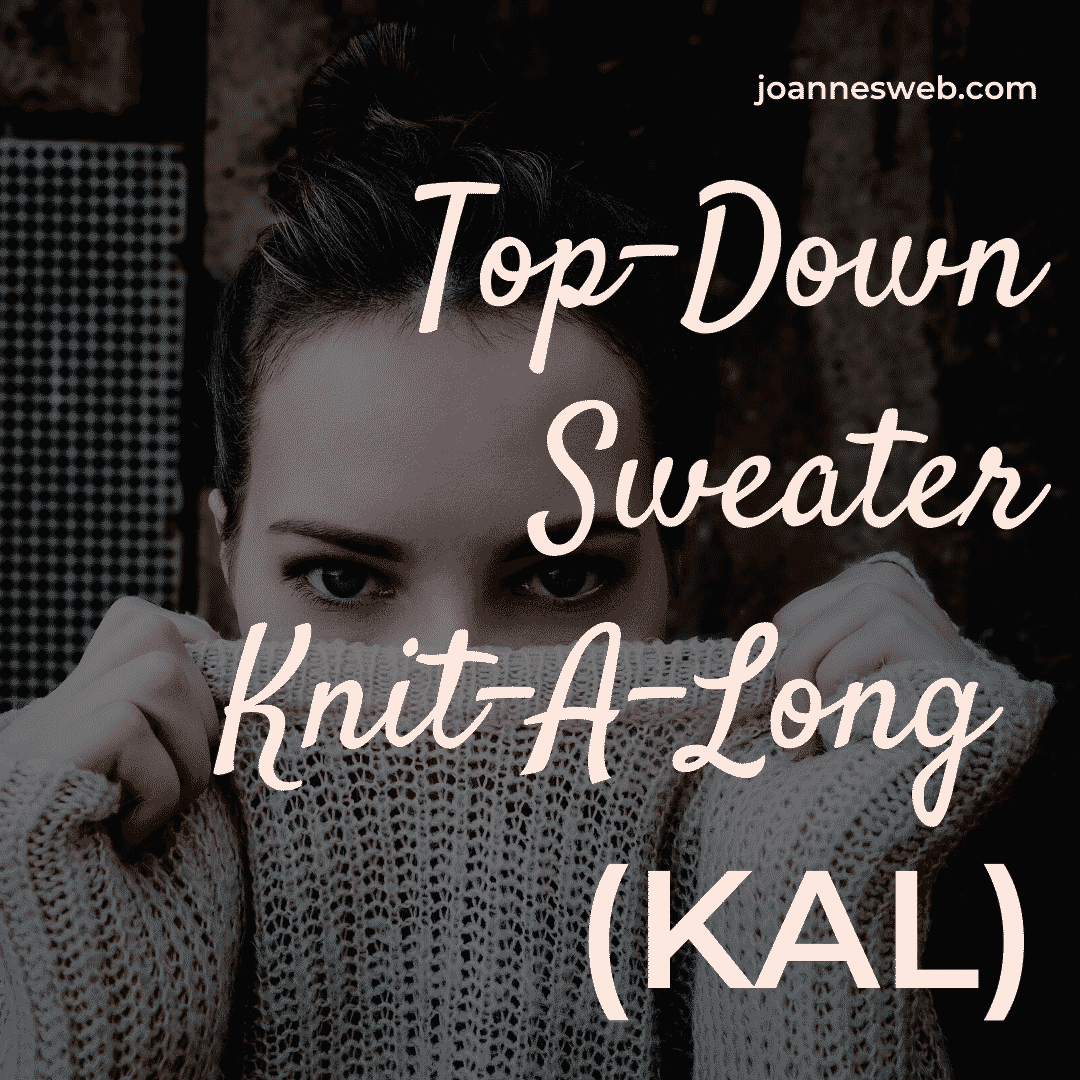 -6 balls of Bamboo Fat from Premier [Bamboo Fair is: Content: 60% rayon of bamboo, 40% cotton; Putup: 3.5oz/100g, 273yd/250m; Gauge: 21sx17r = 4in/10cm on size US5/3.75mm knitting needles;
Buy on Amazon Here: https://amzn.to/2NjYic5]. Any yarn will do, as long as is similar in size.
*-#6 US ( 4mm) Knitting Needles: These are Joanne's favorites lately -> ChiaoGoo Knitting Needles: https://amzn.to/3d91FwU

-Stitch Markers (4) Cute Birdie Stitch Markers: https://amzn.to/3e6X5At
These are affiliate links that offer no extra cost for you, so thank you for checking them out.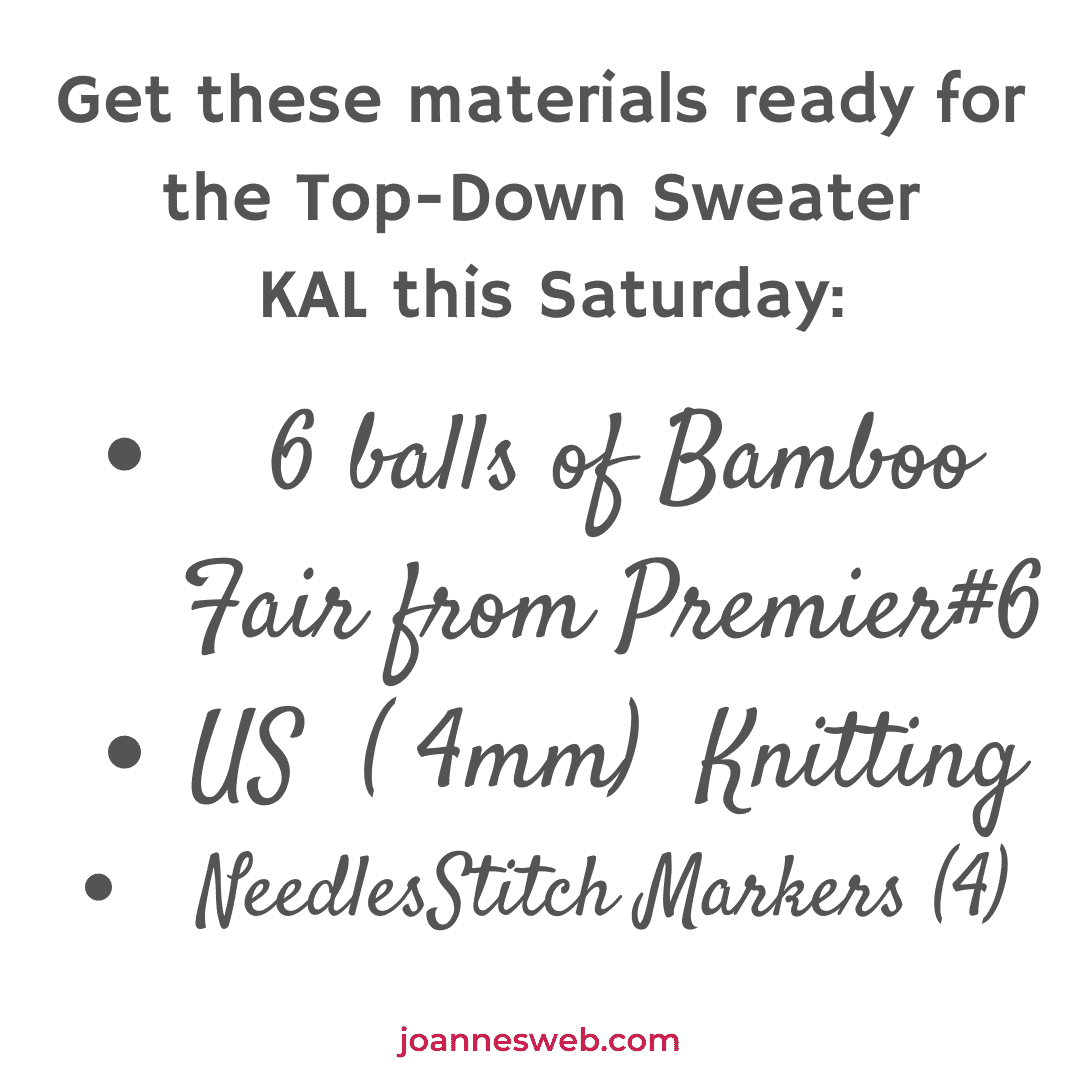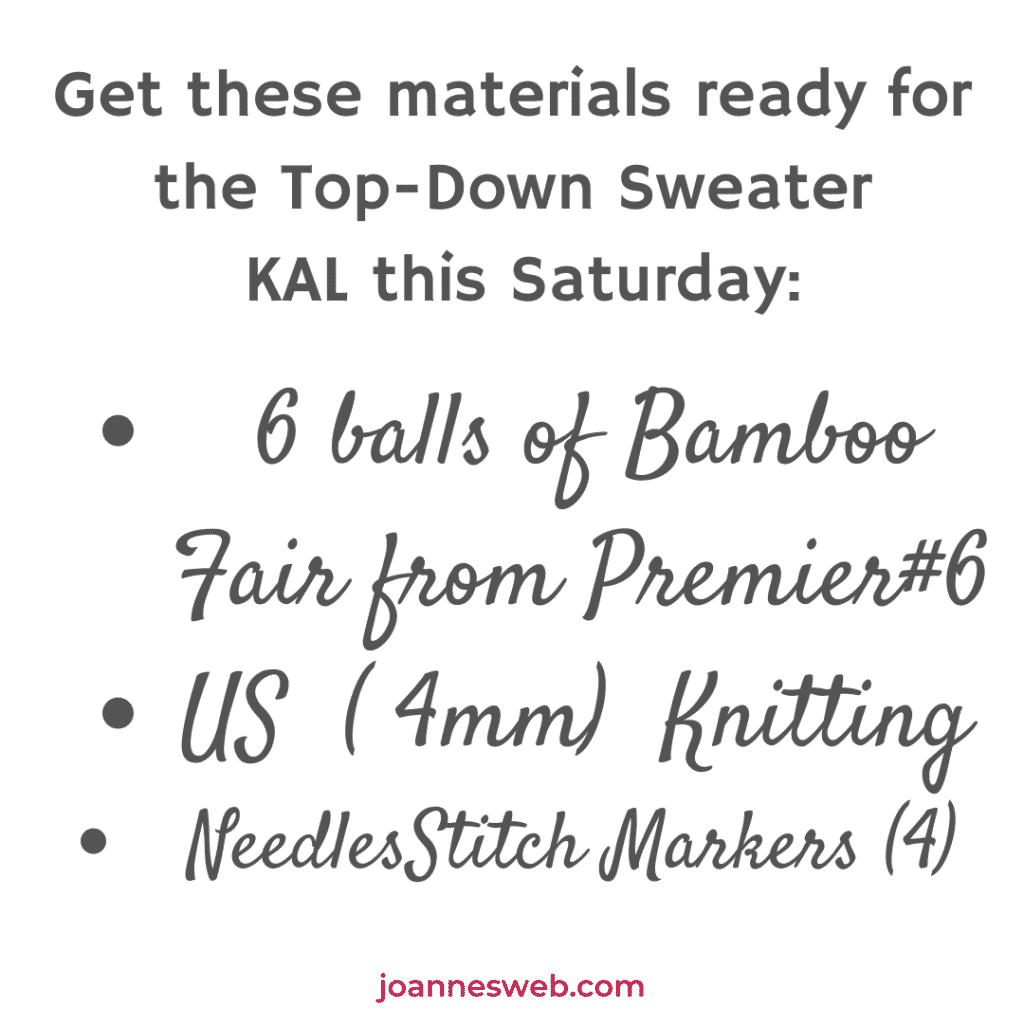 INSTRUCTIONS:
Top-Down Summer Sweater
Size Large
#3 Yarn (I'm using about 1,500 yds)
#6US Needles
Gauge= 24 stitches= 4"
k=knit
p=purl
kfb=knit front and back of a stitch.
Purl all wrong side rows.
(*)=Knit front and back of a stitch, knit one, knit front and back of a stitch.
Cast on 94 stitches
Neck: kfb on the first and last stitch, on every right side of work
until closing round.
Purl all wrong side rows.
Knit 1 row and purl 1 row.
kfb,(*), k19, (*), k42, (*), k19, (*), kfb.
kfb, k2, (*), k21, (*), k44, (*), k21, (*), k2, kfb.
kfb, k4, (*), k23, (*), k46, (*), k23, (*), k4, kfb.
kfb, k6, (*), k25, (*), k48, (*), k25, (*), k6, kfb.
kfb, k8, (*), k27, (*), k50, (*), k27, (*), k8, kfb.
kfb, k10, (*), k29, (*), k52, (*), k29, (*), k10, kfb.
kfb, k12, (*), k31, (*), k54, (*), k31, (*), k12, kfb.
kfb, k14, (*), k33, (*), k56, (*), k33, (*), k14, kfb.
kfb, k16, (*), k35, (*), k58, (*), k35, (*), k16, kfb.
kfb, k18, (*), k37, (*), k60, (*), k37, (*), k18, kfb.
kfb, k20, (*), k39, (*), k62, (*), k39, (*), k20, kfb.
Next, add stitches in the center to close the front by adding 18 stitches.
This way you will have the same amount as the back.
The 22 comes by the 20 plus the stitches that are added on that round.
22+22+18=62.
Loop add 18.
Since we were knitting flat (k1row, p1row) and we will be working
in the round (knit every round), we will add stitches
on the add-on parts only every other row.
I recommend having a cheat sheet to remember which row you are at.
Once the 18 stitches are added, that row is a NO add row.
Next add on rows are:
Sleeve…Back…Sleeve…Front
41, (*), 64, (*), 41, (*), 64
43, (*), 66, (*), 43, (*), 66
45, (*), 68, (*), 45, (*), 68
47, (*), 70, (*), 47, (*), 70
Continue this way until you have:
103, (*), 126, (*), 103, (*), 126
Place sleeve stitches on scrap yarn.
Add 10 stitches when connecting the front and the back of the sweater, under each armhole.
Add 2 stitches on each side of the sweater, every 10 rows, if you wish the sweater to be softer falling. That is, not as tight.
Remember to set aside the yarn for the sleeves and to finish the neck.
Once you do that, you'll know how long your sweater can be, depending on the yarn.
Sleeves
The measurement of my sleeve should be 26", measuring from the neck to my wrist. Please measure yours.
I want soft ribbing around my wrist. Not tight.
Pick up the stitches of a sleeve, from the scrap yarn, with a circular needle.
With the other circular needle,
At the bottom of the sleeve, where you added the 10 stitches, find the middle of them and pick up 6 stitches, with new yarn.
Knit around half the sleeve, change circular needles, knit the other half and end by picking up 6 more. Place marker.
Knit in the round with the 2 circular needles.
In my case, I have 103 stitches on the scrap yarn and I will be adding 10 from the bottom stitches and 2 more on the sides.
103+10+2=115
Take off 2 stitches every 4 rows: knit1, knit 2 tog, knit around the sleeve to 3 stitches before the marker, ssk, knit1.
Please follow cheat sheet.
1 and 1/3" before the total measurement of the sleeve, start ribbing 2 knits and 2 purls. Since it's a multiple of 4, adjust your stitches.
I needed to take 3 stitches throughout the first round of ribbing, so I would have 60 (multiple of 4).
Work 9 rows of ribbing and bind off.
Cheat sheet on rows and stitches:
115
Rows Stitches
5 113
9 111
13 109
17 107
21 105
25 103
29 101
33 99
37 97
41 95
45 93
49 91
53 89
57 87
61 85
65 83
69 81
73 79
77 77
81 75
85 73
89 71
91 69
95 67
99 65
101 63
Share your project on Instagram using the hashtags
#topdownseater & #topdownkal and tagging @joannesweb
The knitalong for this design will run from the date of release to June 30th, 2020
To join, simply post your progress and finished objects using the hashtags and tags above within your grid posts on Instagram. There will be a surprise prize at the end of the KAL, but you can still participate on the video series even when the KAL finishes. We're always answering comments on YouTube.
If you would like to share your progress, but don't wish to do so on
Instagram, we are on Facebook and Pinterest as well and you can simply email us with photos at joannesweb@gmail.com.
Please note that this is a test trial for a new type of Knit-A-Long format, so we'll adjust as we go to accommodate our best pace and methodology.
Think of it as a mass group test knit, where you aren't required to finish or provide
any feedback.
If you find a mistake and would like to let me know, please
email joannesweb@gmail.com. I will address mistakes quickly and
update the pattern frequently as issues are resolved. Thanks in advance for the support and the comments.
Looking forward to more projects like this!
Here is the link to our YouTube Channel where you'll find the video tutorial for this KAL. Please make sure you Subscribe and Hit the Bell Button next to the Subscribe Button, as this is the way to ensure you get notified of new videos and updates we bring you on the channel.
See you on Saturdays!
More ideas on the blog: